A Himalayan Salt Stone Massage is when we use heated salt stones throughout your massage.  All of the salt stones are heated to an even temperature on this dedicated salt plate warmer/bowl.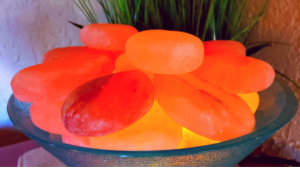 Who should get a
Himalayan Salt Stone Massage
?
Anyone who likes warmth.  These stones are perfectly heated and if you have ever had a hot stone massage, and loved it, then a salt stone massage is also for you!
What are the benefits?
A Himalayan Salt Stone Massage is used to apply heat therapy throughout a therapeutic massage.  
Warm Himalayan salt stone massage relaxes the body, soothes sore muscles, helps improve sleep and mildly exfoliates the skin.
When should I book my Salt Stone Massage?
Book in the morning and be fully energized. 
Book in the evening to help balance your day and have an amazingly restful sleep.
Why Salt Stones?
What we love about the Himalayan Salt Stone Massage is that we are able to provide the therapeutic combination of deep tissue massage and relaxation massage but with the added benefit continual heat in our hands.
Want to experience Himalayan Salt Stone Massage for yourself? Our therapist Alicia is who you want to see!  She is trained to use these stones and she is available Tuesdays, Thursdays and Fridays from 8am - 2pm.
To book a Himalayan Salt Stone Massage with Alicia, click here.
P.S. Our clients will be the first to hear when the rest of our team is trained so stay tuned!